The videoconferences will be held on the platform Elluminate
Les videoconferences auront lieu sur la plateforme Elluminate.
La videoconferencia se llevará a cabo en la plataforma Elluminate
Elluminate provides a Configuration Room that can be used to test your connection, settings, and configure your audio. https://sas.elluminate.com/m.jnlp?sid=345&password=M.AD379BCB0A40D3D8C33C6B16A84C0B&username=Test
---
Links for the june 22nd videoconference (limited to 15 participants):
---
You can make your first tests. The website : learncentral.org, offers a personal vroom, after a free registration.
Vous pouvez faire vos premiers essais. Le site web: learncentral.org, offre une vroom personnelle, après une inscription gratuite.
Usted puede hacer sus primeras pruebas. El sitio web: learncentral.org, ofrece una Vroom personal, después de una inscripción gratuita.
(limited to 3 participants)
---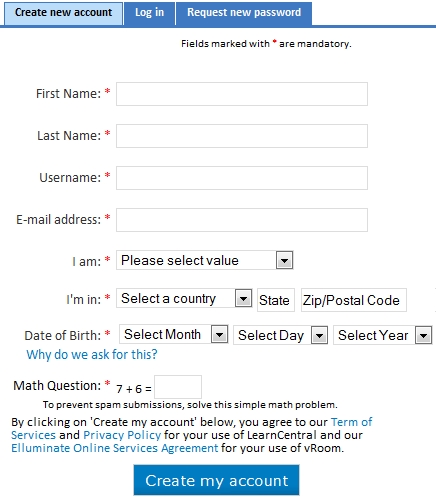 ---
---
https://sas.elluminate.com/m.jnlp?sid=cm090828&password=M.096BA4D3276DD1DF079751C8982260
http://www.elluminate.com/trial/p.go?pk=rm3Av2JAhXgqBfcs
http://www.elluminate.com/trial/m.go?mk=NgBGl9s5e6LgsuYm
---
vider cache Java : http://www.java.com/fr/download/help/plugin_cache.xml