| Marina di Carrara | Italia |
| --- | --- |
| Scuola Primaria | Paradiso |
| Longitude | 10°02' E |
| Latitude | 44°02' N |
| Angle | + 44°02' = +44,03° |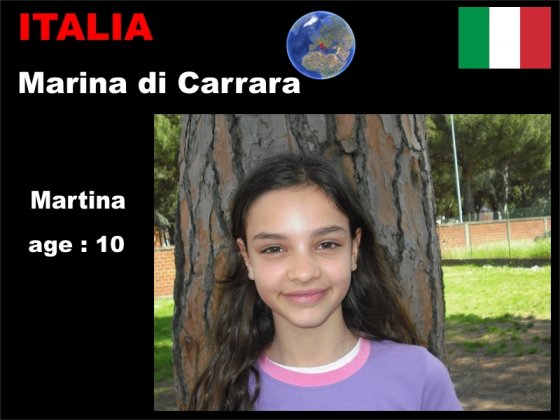 - Buongiorno a tutti, mi chiamo Martina e ho 10 anni.
Io abito in Italia , a Marina di Carrara , una cittadina fra il mare e le montagne . Il marmo bianco delle nostre cave è famoso in tutto il mondo.
La nostra latitudine è di 44° e 02' nord e la longitudine di 10° e 02' est.
Sono un'alunna dell'Istituto Michelangelo Buonarroti. Il Nostro Istituto accoglie più di 1000 studenti e si chiama "Michelangelo Buonarroti " e la nostra scuola primaria " Paradiso A"
Ecco i risultati del 20 marzo:
L'altezza dello gnomone è di 10 centimetri
La lunghezza della sua ombra di 9 cm e 6 mm
L'angolo che abbiamo misurato è di 44° e 4'
Il nostro mezzogiorno solare è alle ore 12.27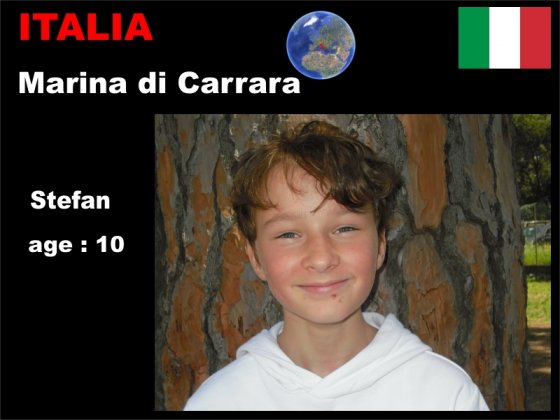 - Hi everyone , my name's Stefan and i'm 10.
I live in Italy , in Marina Di Carrara , a small town on the sea but next to the mountains. White marble from our quarries is famous all over the world.
The latitude North is forty-four degrees and two minutes and the longitude East is ten degrees and two minutes.
More than one thousand students , from 3 to 13 , attend our istitute , its name is Michelangelo Buonarroti. My school is called Paradiso A and it is for pupils from 6 to 11.
These are the results we recorded on March the twentyth :
Our gnomon is ten centimetres , high and the lenth of its shadow was nine centimetres and six millimetres.
The angle we measured was forty-four degrees four minutes .
Solar midday was at twenty-seven minutes past twelve.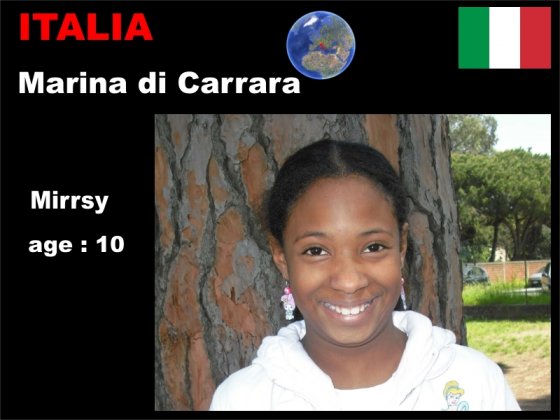 - Hola, mi nombre es Mirssy , tengo 10 años
Yo vivo en Italia, a Marina de Carrara, una ciudad entre el mar y las montañas.
El mármol blanco de nuestras canteras es famoso en todo el mundo
Nuestra latitud es cuarenta y cuatro grados, dos minutos Norte . La longitud es diez grados dos minutos Este.
Soy un estudiante en el Instituto Michelangelo Buonarroti que acoge a más de 1.000 estudiantes Nuestra primera escuela se llama "Paradiso"
Estos son los resultados de la medida del 20 de marzo
la altura del gnomon es de diez centímetros
la longitud de la sombra es de nueve centímetros de seis milímetros
el ángulo del sol era de cuarenta y cuatro grados , cuatro minutos
tenemos el solar del mediodía hasta las doce horas o veintisiete minutos